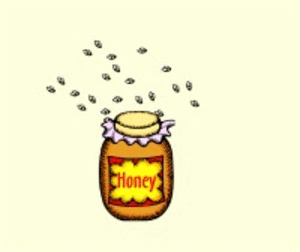 September is NATIONAL HONEY MONTH. A big shout out to our tireless, wondrous honey bees who create this miracle elixir!
HONEY has held a place in human culture since ancient times. Greek mythology tells of a tale in which the life of Zeus is saved by bees feeding him honey, in Celtic mythology mead was the drink of immortality, and in more recent times, Disney brought us Winnie the Pooh, always following his rumbly tummy to the honey pot. Though it is possibly the yummiest creation on earth, honey contains tons of healing properties hidden in its gooey goodness.
Apitherapy is the treatment of various conditions using honeybee products. Honey (now I'm talking raw honey straight from the comb, unheated, unfiltered, un-messed with) is one of the oldest medicines we have, with proof of its healing power dating back more than 5,000 years. On skin, it heals wounds, infections, burns, bites, stings (yes, bee stings, too), dry/chapped skin, and is wonderful for wrinkles and softening hair. It heals allergies and a variety of stomach complaints including indigestion and ulcers; it helps soothe sore throats, hangover (even helps sober you up), metabolism, lethargy, and the list goes on.
So, the next time you spot a honey bee, don't grimace or run in fear. THANK HER! (And, yes, she's a "her" as are all worker honey bees). She's working super hard to make her sweet magic, and if you look closely, you might also spot another awesome sight: pollen gathered on her back legs. THANK HER for pollinating the flowers and food we hold so dear, too! If you're curious about some more AWESOME facts, visit my Honey Bee Page. See, I lov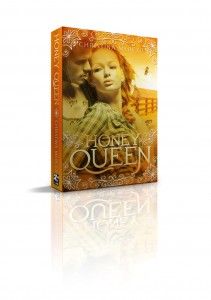 e 'em so much, I gave them their own page.
I also wrote A BOOK with them in mind 🙂
In honor of honey bees, my YA Fantasy HONEY QUEEN is only 99 CENTS on ALL EBOOK FORMATS through the end of September. To get your copy, buzz on over to . . . 
And Thanks For Visiting!