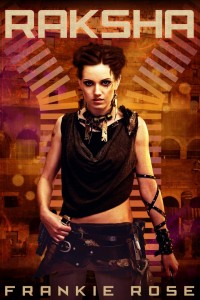 Title: RAKSHA (Blood and Fire book 1)
Author: Frankie Rose
Genre: YA Dystopian
Blog Tour Dates: April 26 – May 10, 2013
***Hosted by Girls Heart Books and Lady Amber's Tours*** 
Wow, last day of LAUNCH BLOG TOUR for my Indie-Visible Sister-Author, Frankie Rose, and her newly-released Young Adult Dystopian RAKSHA. I had the pleasure of reading an advanced copy of this one, and it's pure and simple AWESOME!! 
SYNOPSIS…
She has her knives, her training, and her halo.
The first and second give her the ability to defeat the opponents she is pitted against each month. The third frees her from pain and fear. From any kind of emotion at all. Everything is as it should be. Everything is as it should be, until…
Fear… Pain… Anger… Happiness… Desire… Guilt…
Love.
When a newly named Kit escapes the Sanctuary after killing her best friend, the last thing she needs is another knife in her hand. Or Ryka, the damaged, beautiful blond boy, whom she refuses to let save her. The sights and sounds of Freetown are new, yet one thing is familiar: the matches. The only difference? Where the blood in the Sanctuary landed only on the Colosseum floor, Kit will quickly learn that a river of red runs through Freetown's very streets.
Without her halo, the inhabitants of Kit's new home consider her saved, but is that really the case? Would she be better off free of the guilt associated with all the blood on her hands, or is the love of one boy worth living through all the pain?
Raksha is the call of the dead. It is the rumbling chant for fresh blood from the other side, the demand for sacrifice. The Colosseum is behind Kit. The fighting pits await.
 ~~~
I LOVED the settings and characters of this unique Dystopian. Kit's plight hooked me immediately. Her cold, kick-ass persona comes on strong, creating a tension-packed contrast to the new feelings stirring within her. I can't wait for the sequel slated to release the end of this year!
FRANKIE WAS KIND ENOUGH TO ANSWER A FEW QUESTIONS BURNING IN MY MIND…
What do you believe draws so many people to the dystopian genre? What drew you to it?
I guess people love the genre because there are so many possibilities in dystopia. And a lot of the imperfections in the dystopian world are a reflection of conflicts and power struggles that are happening today. It's not a perfect future, and there are many injustices. In a dystopian novel, the hero or heroine generally overcomes the oppressive power, though, which isn't always the case in real life. It's kind of like sticking one to the man. I never consciously decided to write dystopia. It just happened to be what the book was classified as by the time I hit, The End!
What developed first for you, the intriguing story setting and/or plot or your kick-ass main character, Kit?
I had an idea for a culture in the first instance–a knife fighting culture, peppered with religious fanaticism–and the characters came next. I invested a lot of time into getting to know Kit, developing her from the ground up, mainly because we as readers get to see Kit develop into a person as the book goes on and I wanted her personality, her strengths and weaknesses to become apparent to the reader as they became apparent to Kit, herself. It was an interesting thing to do.
Ryka, on the other hand… I've been a bit cheeky with Ryka. I'm saving parts of his development for the second book. A lot happens with Ryka in Radicals.
Where did the name Raksha come from?
Well, I sat down and made it up. Or I thought I had, anyway, ha ha! I needed a word for the people of Freetown to chant, and Raksha sounded good. I loved the K and SHHH sounds together and thought it would work really well when repeated over and over, sort of flowing into itself, which is what happens in the book. It was only afterwards when I googled the word that I realised it already existed. Apparently Raksha is a Hindu festival, as well as a character from the Jungle Book.
What else do you like to do besides write?
I love reading, of course. I ski and snowboard, and do a lot of hiking and bushwalking wherever I am. I like learning to cook new things, and having friends over. I go to the movies a lot with my family here in Australia. I'm passionate about film, and I would love for one of my books to be on the big screen one day. That's the dream!
You are dynamo creator, publishing multiple books in a matter of months. Can you give a one or two line blurb on each of your other novels, and also let us know what you have planned after Raksha?
Sovereign Hope
Eighteen year old Farley Hope is searching for her lost mother, but instead finds that she is prophesied to end a line of brutal soul reavers, intent on murdering her before she can fulfill her destiny.
Eternal Hope
Farley and Daniel are working on their relationship, a hard task when ancient reavers keep trying to kidnap them, and Kayden, Daniel's tortured yet loveable nemesis, keeps showing up at the most inopportune times.
Raksha
Kit's been battling her whole life, and yet when she escapes the Sanctuary and finds her way to Freetown, she faces her biggest fight yet when she must tackle her new emotions and the sinister priestesses head on.
Icarus Rise
Ashley Patterson figured college would be the perfect escape from her painful past and her dead father, the man who killed four people in cold blood. She didn't count on running into Jake Stafford, however. The heartthrob of Breakwater High is now an NYPD cop, and has ideas about Ashley and her past that she won't be able to ignore.
I have three other projects in planning at the moment, but I'm guarding them closely, since I haven't yet decided on where I'm headed with each of them. I don't want to jinx them! I can share their titles and genre, however. Stone is a literary fiction, Three Cameras is a contemporary romance, and The After is young adult paranormal fiction/romance!
MORE ABOUT FRANKIE…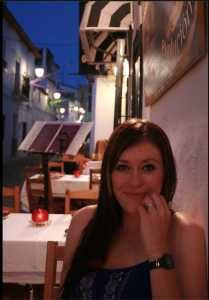 Frankie Rose is a British expat, who is currently enjoying the perks of living in Australia- her awesome husband, sunshine, and vitamin D. She spends her time creating fictional universes in which the guy sometimes gets the girl, the heroes occasionally die, and the endings aren't always happy. But they usually are.
LINKS…